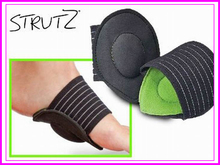 Overview
Plantar fasciitis is a condition characterised by damage and inflammation to the plantar fascia (i.e. the connective tissue on the sole of the foot forming the inner arch. This usually occurs at the attachment of the plantar fascia to the heel bone. Plantar fasciitis is the most common cause of heel pain seen in clinical practice. During walking or running, tension is placed through the plantar fascia. When this tension is excessive (often due to poor foot biomechanics such as flat feet or if it is too repetitive or forceful, damage to the plantar fascia can occur. Plantar fasciitis is a condition where there is damage to the plantar fascia with subsequent inflammation and degeneration. This may occur traumatically due to a high force going through the plantar fascia beyond what it can withstand or, more commonly, due to gradual wear and tear associated with overuse. Occasionally, a heel spur may develop in association with plantar fasciitis.
Causes
There are multiple potential causes and contributing factors to plantar fasciitis heel pain. The structure of a person's foot and the way that they walk or run usually play a significant role in the development of plantar fasciitis. Those with an arch that is lower or higher than the average person are more likely to be afflicted. Overexertion and/or participating in activities that a person is not accustomed to also place a person at risk. This can include a heavy workout, a job change, or even an extended shopping trip. Additionally, inappropriate shoes are also often a factor. Exercising in shoes that are worn out or don't have enough support and/or wearing inexpensive, flimsy or flat-soled dress or casual shoes are common culprits. In warm climates, such as here in Southern California, people who wear flip-flop sandals or even go barefoot throughout the year increase their chances of developing heel pain. Many athletes and weekend warriors develop heel or arch pain from over-exertion during running or other sports. People who work at jobs that involve long periods of standing, such as grocery checkers, cashiers, warehouse workers, postal workers, and teachers are more susceptible as well. Adults of all ages can develop plantar fasciitis. Heel pain in children is usually caused by a different type of condition.
Symptoms
Plantar fasciitis is usually found in one foot. While bilateral plantar fasciitis is not unheard of, this condition is more the result of a systemic arthritic condition that is extremely rare in an athletic population. There is a greater incidence of plantar fasciitis in males than females (Ambrosius 1992). While no direct cause could be found it could be argued that males are generally heavier which, when combined with the greater speeds, increased ground contact forces, and less flexibility, may explain the greater injury predisposition. The most notable characteristic of plantar fasciitis is pain upon rising, particularly the first step out of bed. This morning pain can be located with pinpoint accuracy at the bony landmark on the anterior medial tubercle of the calcaneus. The pain may be severe enough to prevent the athlete from walking barefooted in a normal heel-toe gait. Other less common presentations include referred pain to the subtalar joint, the forefoot, the arch of the foot or the achilles tendon (Brantingham 1992). After several minutes of walking the pain usually subsides only to re turn with the vigorous activity of the day's training session. The problem should be obvious to the coach as the athlete will exhibit altered gait and/ or an abnormal stride pattern, and may complain of foot pain during running/jumping activities. Consistent with plantar fascia problems the athlete will have a shortened gastroc complex. This can be evidenced by poor dorsiflexion (lifting the forefoot off the ground) or inability to perform the "flying frog" position. In the flying frog the athlete goes into a full squat position and maintains balance and full ground contact with the sole of the foot. Elevation of the heel signifies a tight gastroc complex. This test can be done with the training shoes on.
Diagnosis
Your doctor will perform a physical exam to check for tenderness in your foot and the exact location of the pain to make sure that it's not caused by a different foot problem. The doctor may ask you to flex your foot while he or she pushes on the plantar fascia to see if the pain gets worse as you flex and better as you point your toe. Mild redness or swelling will also be noted. Your doctor will evaluate the strength of your muscles and the health of your nerves by checking your reflexes, your muscle tone, your sense of touch and sight, your coordination, and your balance. X-rays or a magnetic resonance imaging (MRI) scan may be ordered to check that nothing else is causing your heel pain, such as a bone fracture.
Non Surgical Treatment
Careful attention to footwear is critical. Every effort should be made to wear comfortable shoes with proper arch support, fostering proper foot posture. Should arch supports prove insufficient, an orthotic shoe should be considered. Fortunately, most cases of plantar fasciitis respond well to non-operative treatment. Recovery times however vary enormously from one athlete to another, depending on age, overall health and physical condition as well as severity of injury. A broad period between 6 weeks and 6 months is usually sufficient for proper healing. Additionally, the mode of treatment must be flexible depending on the details of a particular athlete's injury. Methods that prove successful in one patient, may not improve the injury in another. Early treatment typically includes the use of anti-inflammatory medication, icing, stretching activities, and heel inserts and splints. Cortisone injections may be necessary to achieve satisfactory healing and retard inflammation. In later stages of the rehabilitation process, typically after the first week, ice should be discontinued and replaced with heat and massage.
Surgical Treatment
Like every surgical procedure, plantar fasciitis surgery carries some risks. Because of these risks your doctor will probably advise you to continue with the conventional treatments at least 6 months before giving you approval for surgery. Some health experts recommend home treatment as long as 12 months. If you can't work because of your heel pain, can't perform your everyday activities or your athletic career is in danger, you may consider a plantar fasciitis surgery earlier. But keep in mind that there is no guarantee that the pain will go away completely after surgery. Surgery is effective in many cases, however, 20 to 25 percent of patients continue to experience heel pain after having a plantar fasciitis surgery.
Stretching Exercises
Stretching exercises for your foot are important. Do the stretches shown here at least twice a day. Don't bounce when you stretch. Plantar fascia stretch. To do the plantar fascia stretch, stand straight with your hands against a wall and your injured leg slightly behind your other leg. Keeping your heels flat on the floor, slowly bend both knees. You should feel the stretch in the lower part of your leg. Hold the stretch for 10 to 15 seconds. Repeat the stretch 6 to 8 times. Calf stretch. Stand with your hands against a wall and your injured leg behind your other leg. With your injured leg straight, your heel flat on the floor and your foot pointed straight ahead, lean slowly forward, bending the other leg. You should feel the stretch in the middle of your calf. Hold the stretch for 10 to 15 seconds. Repeat the stretch 6 to 8 times. Other exercises. You can also strengthen your leg muscles by standing on the ball of your foot at the edge of a step and raising up as high as possible on your toes. Relax between toe raises and let your heel fall a little lower than the edge of the step. It's also helpful to strengthen the foot by grabbing a towel with your toes as if you are going to pick up the towel with your foot. Repeat this exercise several times a day.